Oh how I wish this was a late April Fools joke, but no, it's real life.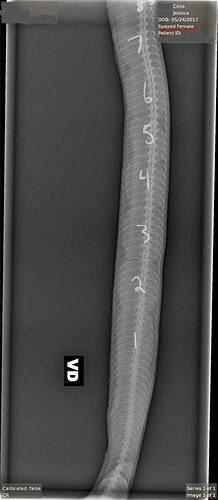 .
.
.
.
.
I decided to make a separate thread, since
my other
was getting rather long and some may be interested in this beyond the scope of that one. Here's the backstory on this x-ray, and the situation in general:
Backstory

Last year, this girl ended up egg bound, and was eventually spayed. She did amazingly, healed well, regained her body condition, and was living life as a beloved pet, free from further reproductive issues…Or so I thought.

I left the country the second week of April, leaving my dad in charge of all my animals, Celia included. I ended up having to extend my trip, and spent almost a full month gone. When I got back, one of the first things I noticed was that Celia was looking swollen and refused food. Took her to the vet the day after I got home. We were working on the suspicion that she had retained dissolvable suture material that had caused an infection. Vet put her on ceftaz for the next 3 weeks.

One week later, I was giving her injection #2 and when I picked her up, I noticed she was more swollen than before and looked gravid. Palpated her, she felt gravid, which should not have been possible. Next morning I called the vet when they opened and made a same-day emergency appointment again. I take her in, go through the q & a with the tech, and then she leaves before the vet comes in. This is the same vet who did her initial spay, and she was quite skeptical of the presenting complaint for obvious reasons. However the moment she palpated Celia herself, that changed quite quickly. She agreed Celia felt gravid and ordered an x-ray. What you see is what showed up. My "spayed" female must've retained/regenerated enough tissue to ovulate and produce what appears to be seven, maybe eight eggs. Had I not realized something was up, there's a very real possibility she could have ended up losing her life due to infection from the retained eggs.
So that's the story of how my spayed female is going to be spayed again, coincidentally one year to the day since her first surgery. To any other reptile breeders, do keep in mind that while this kind of thing is uncommon, it can happen. Be vigilant about observing all of your animals, even if you think a problem has been resolved.