After seeing @westridge ask for a changelog of genetic updates over here i thought it would be nice to keep everyone up to date with changes we are making here on the forum.
So as some may have seen we added the Carousel Images component a few days ago.
You may also have noticed social links on the header bar…


These will take you to MorphMarkets Facebook and Instagram, where we will soon see content from here promoted more often.
You will also see a new footer at the very bottom of your screen with useful quick links to various parts of the MorphMarket universe…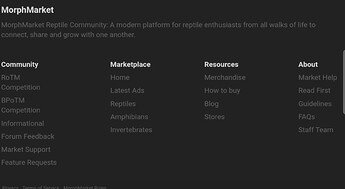 As more things are updated I will add them here.
If anyone has any questions or suggestions on visual changes feel free to drop them here.

---
TLDR Changelog:
Slick Image Gallery
Easy responsive footer
Custom header link icons
---
User card directory.
"Website" changed to "MorphMarket Store".
Added social fields.
Added #

featured

Image Tiles
Added Hovering Videos
---
Badges on post (retracted until fixed)
Added links to menu
added GIFs
---
Added new user tab
Message Bubbles
---
---
Topic Layout Changes
Added "Portfolio" image feeds to user profiles.
---
Updated Featured Tiles - Cleaner on both mobile and desktop.
---
---
---
Added Subforums for majority of Categories.
---
Added Invert Subforums
Colourful Categories
---
Added Morphpedia and MorphMarket Events icons to header.
---
April 2022
Usark logo fixed on category page.
Morphpedia icon on header changed from dna to book
Added MorphMarket Support icon to header
Rounded image corners
Theme selector added to hamburger menu
Gallery View theme added